KASTOcross U 6x25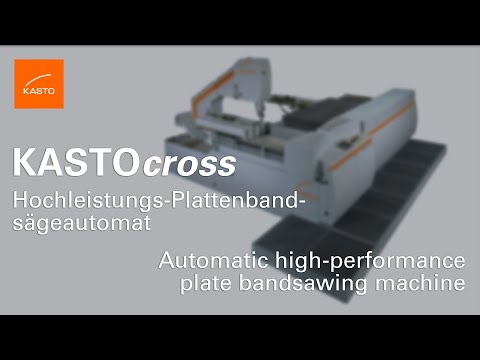 KASTOcross U 6x25
Automatic high-performance plate bandsawing machine of robust construction, with saw blade moving parallel in vertical direction, for cutting of billets or plates, square or flat material of all qualities, particularly for tool steels and material which is difficult to cut such as titanium, Hastelloy, Inconel etc.
Saw blade guide by means of hydraulically pretensioned carbide slideways
Electronically monitoring of the hydraulic saw blade tension
Infinitely variable cutting speed, centrally adjustable
Saw control KASTO BasicControl for easy, fast and reliable operation and adjustment of saw parameters
Clamping device for extremely short remnants
Download brochure (PDF 1.7 MB)
We are happy to help:
Technical data
KASTOcross U 6x25
Cutting range

Cutting range flat height x width

25.98 x 100.79 in

Clamping range

15.75 - 100.79 in

Min. height of plate

0.39 in

Shortest length of cut-off piece

0.79 in

Shortest remnant length individual cut

0.98 in
Mass and height

Width

170.87 in

Depth of machine incl. chip conveyor approx.

347.64 in

Depth of machine incl. operating platform and chip conveyor approx.

403.35 in

Height

153.94 in

Total weight

48,501.70 lbs

Material support hight

64.96 in
Performance characteristics

Connected load

24.12 HP

Power of saw motor

10.05 HP

Blade speed

39.36 - 393.60 ft/min

Saw blade feed rate, infinitely adjustable

0.02 - 9.84 in/min

Saw blade dimensions

451.97 x 2.13 x 0.06 in

Saw blade guide

carbide tipped, exchangeable

Saw blade tension

hydraulic

Cleaning of saw blade

by a brush which is easy to exchange, motor-driven
We reserve the right to make technical changes.
Services & Support options